Iowa-Grant History Book
Central to all small communities in rural America was the value placed on education. The schools, along with churches, were the glue that kept these small settlements and villages together, thriving and providing an unforgettable way of life for over a century. Life was hard then, by today's standards, but everyone seemed to be in a similar situation. Education became the key. The schools played a vital role with each generation learning and growing in their trades, their farming practices and their family-centered way of life.
This book tells the story of one such area in beautiful southwest Wisconsin where over 40 small school districts consolidated into one larger district encompassing nearly 200 square miles. The rural leaders in the 1950's realized that the one-room school concept could no longer meet the growing needs of their children. Society was advancing and education, once again, remained the key. Rural cooperation is well exemplified in this book as these tiny districts looked to a future of growth and opportunity and claimed it for their families. They birthed the school known as Iowa-Grant. The name tells proudly of its origin in both Iowa and Grant counties.
Some fifty years later, education still remains the vital key to the success of our children. This look back in history may just remind us that there is still a part we must all play to keep it growing forward. This look at the past an also show us how collectively we can take an idea and build it into something bigger than each of us can do alone.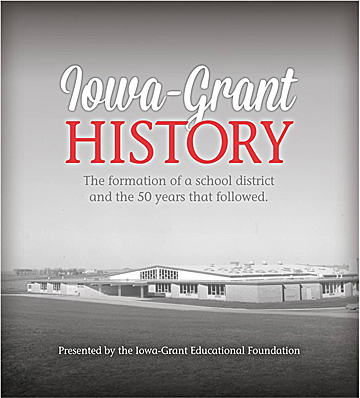 The Iowa-Grant History Book now comes to you
With a NEW PRICE and a BIG "THANK YOU" for your SUPPORT!
NOW JUST $10
When we started this book project after the 2010 reunion, we had no idea how well this would be received, let alone, how in-depth we would actually go in writing it. But 312 pages later and now excitedly, with over one thousand books sold, we have been able to put your book purchases to good use in offering more scholarships and innovative classroom projects to I-G students. Needless to say, we owe you a BIG THANK YOU and with that comes this incredible offer of just $10 per book to help us, HELP MORE STUDENTS.
For those of you who have purchased the book you have seen this school history become part your own written history. It also serves as a comprehensive reference book for looking up classmates and friends. Each one of our graduates, faculty, support staff, school board members, and administrators are included (to the best of our abilities) in the twenty-seven page index. Each of the 50 years are featured with a 2-page photo spread with names and events to reflect that point in time.
Now with this amazing "Thank You" pricing, we hope you will share it with others on your gift list. We still hear of alumni who were not aware of the book, so we hope you can help spread the word by sharing it with them, and with it, a way to continue keeping Iowa-Grant a "Class Act", as many administrators have called it.
Where to Purchase
Cobb ---------
Royal Bank
Dodgeville - Christianson Law Office
- Iowa County Historical Society
Edmund ----- Farmers Savings Bank
Livingston -- Community First Bank (Livingston State Bank)
Montfort ----- Rural Route 1 Popcorn
Platteville -- Chamber Office on Hwy 151
Iowa-Grant - High School & IG Elementary/Middle School
How to Purchase​
Credit Card -- Amazon.com
--- Search for "IowaGrant History" (without the hyphen) on the Amazon web site.
By Check ----
"Download File"
on the PDF Order Form below.